Friday, June 06 2008
The Great Crusade
Today is the 64th anniversary of D-Day. On this day in 1944, nine divisions of allied troops landed on the beaches and in the fields of Normandy, France. I can think of no more fitting tribute than to include Gen. Eisenhower's address to the troops on June 6th:

Soldiers, Sailors and Airmen of the Allied Expeditionary Force!

You are about to embark upon the Great Crusade, toward which we have striven these many months. The eyes of the world are upon you. The hopes and prayers of liberty-loving people everywhere march with you. In company with our brave Allies and brothers-in-arms on other Fronts, you will bring about the destruction of the German war machine, the elimination of Nazi tyranny over the oppressed peoples of Europe, and security for ourselves in a free world.
Your task will not be an easy one. Your enemy is well trained, wellequipped and battle hardened. He will fight savagely.
But this is the year 1944! Much has happened since the Nazi triumphs of 1940-41. The United Nations have inflicted upon the Germans great defeats,in open battle, man-to-man. Our air offensive has seriously reduced their strength in the air and their capacity to wage war on the ground. Our Home Fronts have given us an overwhelming superiority in weapons and munitions of war, and placed at our disposal great reserves of trained fighting men.The tide has turned! The free men of the world are marching together to Victory!
I have full confidence in your courage and devotion to duty and skill in battle. We will accept nothing less than full Victory!
Good luck! And let us beseech the blessing of Almighty God upon this great and noble undertaking.
Dwight D. Eisenhower
D-Day is one of the rare parts of the Second World War that still gets covered in American history and pop culture, and it's one in which the brutal reality of what happened (as well as the enormity of what was accomplished) on that day is not unduly edited out.
Still, every day on my way to and from work, I travel down US 29 through central Virginia. Along the way, off to the side of the road, often hidden behind the trees, are a number of simple green signs. I wonder how many of the drivers passing by even notice them, much less wonder why they are there. Someone obviously does, as there is a flag and a ribbon attached to almost each and every one.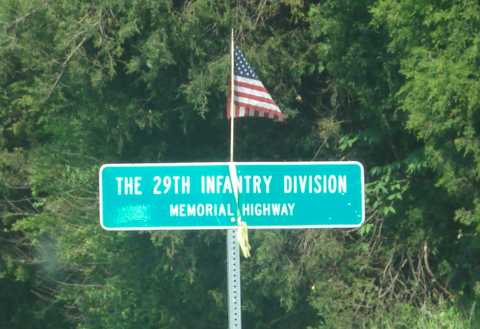 Posted by: Civilis at 10: 43 AM | No Comments | Add Comment
Post contains 416 words, total size 3 kb.
Comments are disabled. Post is locked.
14kb generated in CPU 0.02, elapsed 0.0411 seconds.
38 queries taking 0.0296 seconds, 92 records returned.
Powered by Minx 1.1.6c-pink.