Monday, August 06 2012
Culture and Violence
As a critical consumer of culture, I have always been skeptical of claims that movies and TV are directly responsible for violence in the real world, especially at an aggregate level, and for the most part, I still believe this to be true. However, recent events have caused me to change my opinion slightly. Oddly, I've seen the media directly connect the movie source with the violent result, but I have not seen anyone make the claim that this specific movie is responsible for the violence that has ensued.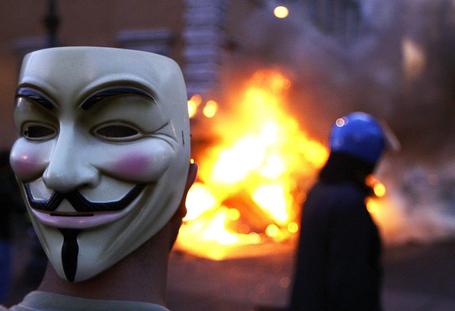 While I know the original history of Guy Fawkes, I seriously doubt most of the protestors using his image know who he was, which means that this is a meme that has its modern origin in
V for Vendetta
.
Posted by: Civilis at 07: 30 PM | Comments (1) | Add Comment
Post contains 131 words, total size 1 kb.
Posted by: jasa seo at Jul 13 07 34 (mIy3C)
Posted by: herikrc at Aug 03 02 54 (rH1iq)
Comments are disabled. Post is locked.
13kb generated in CPU 0.02, elapsed 0.0489 seconds.
40 queries taking 0.0338 seconds, 95 records returned.
Powered by Minx 1.1.6c-pink.