Sunday, July 22 2007
Otakon 2007
I have just returned, alive, from Otakon 2007. Otakon is probably the East Coast's largest anime convention, held every summer in Baltimore, Maryland.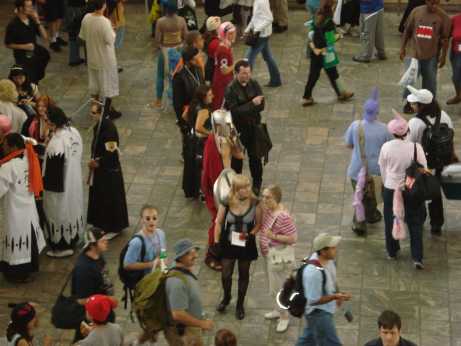 What does one do at an anime convention? Oddly enough, the one thing I didn't do this year is actually watch any anime. I was with a friend with more refined tastes, and there was nothing we could agree on watching which was more interesting than watching our fellow otaku. We therefore spent a lot of time people-watching and taking photographs. My friend is a much more skilled photographer, and his photos are up on
his flickr page
. We did catch the anime music videos, of which there were no particularly outstanding examples this year. We also spent some time in the dealer room, acquiring swag, and in the game room, watching people playing video games (and occasionally joining in ourselves.)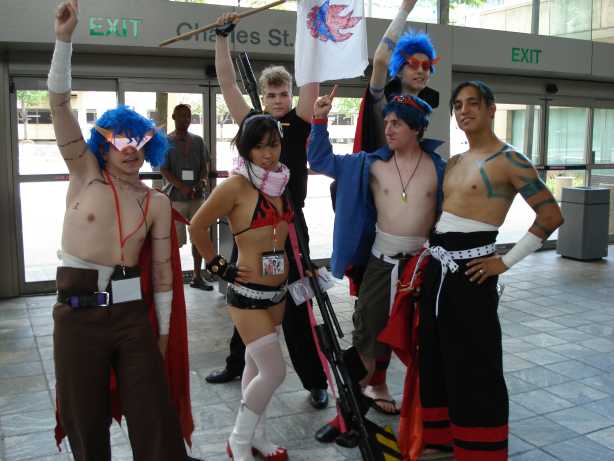 I can often get a sense of the state of the otaku community by watching the cosplayers at the convention. As always,
Bleach
,
Fullmetal Alchemist
and
Naruto
are heavily represented. For a new series,
Tengen Toppa Gurren Lagann
(above) had a surprising following.
Fate/Stay Night
has come in to its own with a sizable representation. There were more members of SOS-Dan from
Melancholy of Haruhi Suzumiya
than last year, but that club was overshadowed by the
Ouran High School Host Club
(below).

Some series always have a presence, and are fairly consistent from year to year:
Sailor Moon
,
Utena
,
Inu Yasha,
Fruits Basket, Prince of Tennis,
and
Hellsing
.
DBZ
representation was down, as was
Evangelion
, although I still saw a Gendo or two, a Rei, and at least one Asuka.
Gundam
was down, although there were more of the old school Gundam characters.
As there is a cross-interest between anime and video games, especially Japanese video games, video games were well represented amongst the cosplayers. The
Final Fantasy
and
Kingdom Hearts
series are heavily represented. A lot of the fighting games have representatives as well, especially the
Dead or Alive
series, the
Guilty Gear
series, and the
Soul Calibur
series. There were a lot of very heavily armed generic mercenary types, many of which are probably connected to the
Metal Gear
series. Nippon Ichi's
Disgaea
(one of my favorite console games) had the usual couple of representatives. There were a fair number of Mario characters, with Princess Peach being the most predominant. Finally, none of the very plentiful
Phoenix Wright
characters ever objected to having their pictures taken (although most could be persuaded to object while having their picture taken (below).)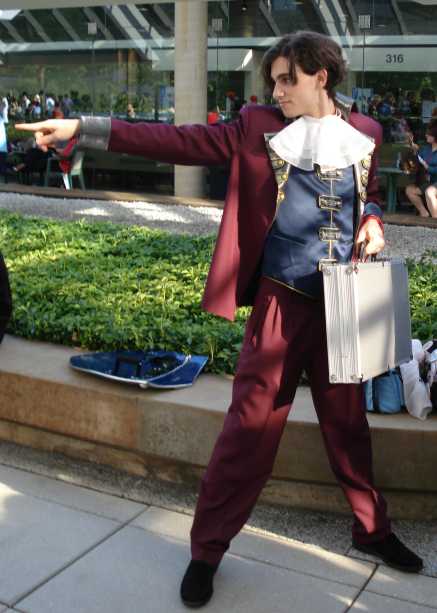 For American characters and generics, Jedi were out, Pirates were in, though Ninja still outnumbered Pirates thanks to their representations in specific anime series. American comic characters were out, with DC suffering more than Marvel from loss of representation. There were a few Transformers present.
[Warning: The next paragraph contains some disturbing imagery. People with strong imaginations should skip it. Don't say I didn't warn you.]
For the disturbing cosplayers, there were a few. One pimp had two 'ladies' on a chain. I didn't see Sailor Bubba or Man-Faye, but Man-noha was wrong, and the only thing more eye-gougingly awful than seeing a guy cosplaying Haruhi Suzumiya is seeing a guy cosplaying Haruhi Suzumiya
in her bunny-girl outfit
. Then again, you didn't need a costume to be disturbing. One guy had a pedobear t-shirt, and I'm told there was someone with a Nazi armband. People, you're not doing your hobby any favors. Grow up and stop trying to be offensive just to be offensive.
[Okay, rant and imagery over.]
Otakon is very heavily commercialized with regards to support from the American studios which release anime. Each company generally has a panel and a substantial booth in the dealer room, and Bandai, Geneon, and ADV had premieres. Still, Otakon had a fair number of fansubs on the schedule, including Code Geass, Sola, Nodame Cantible, and Lucky Star. This extends to products other than gaming; Mountain Dew had a promotion on Friday which was (apparently, as I only know about it third hand) offering free Dew or Dew merchandise to anyone who was willing to stand in line and play the Halo 3 demo.
The video game room is an interesting combination of Japan-only releases of games mixed with the latest in American console goodness. The Wii was represented with a number of party games, although the older Gamecube was in use more and on the bigger TVs for
Super Smash Brothers
and
Mario Kart Double Dash
. Boding ill for Sony, I didn't see anything that looked like a PS3 game, though there were a lot of PS2 games (with the consoles themselves locked away, it's hard to tell which console is which). Microsoft had a small but very visible presence for the X-Box 360 with an impressive four on four
Gears of War
game, and there was a smaller contingent of gamers playing
Halo 2
. In other gaming related news, it seemed that half the con had a Nintendo DS.
All in all, a fun convention.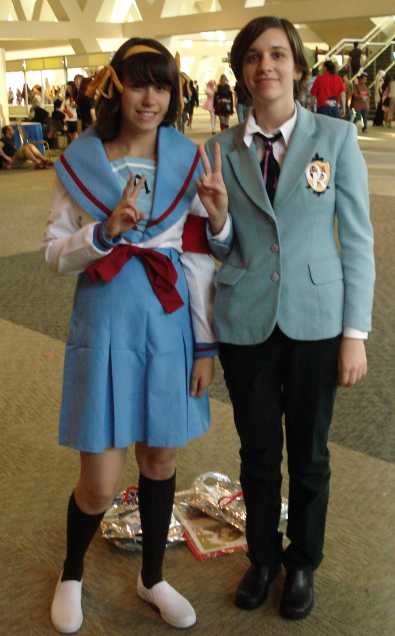 Posted by: Civilis at 02: 10 PM | Comments (3) | Add Comment
Post contains 816 words, total size 8 kb.
1
As to that last picture, unless I miss my guess they're both cross-dressing. Eeew.
Posted by: Steven Den Beste at Aug 08 20 46 (+rSRq)
2
That's more likely my bad picture taking. Both looked to be middle or high-school aged girls, obviously attending the con together, that I happened to run across on my way out the door and decided that they might be photographable. (There was a male Haruhi Suzumiya cosplayer that I mentioned, and the image is unfortunately seared into my memory.)
My first take on you reaction was "That can't be right,
neither one is cross-dressing.
" But that's not correct. Suzumiya Haruhi (left) is a female character played by a female cosplayer. Fujioka Haruhi (right) is also a female character played by a female cosplayer, however the
character
is a cross-dresser. So I look at it and see first "female playing female" and have to look again to see it how it really is.
This leads to an interesting question. There is a fighting game character I've seen cosplayed several times at cons that is a male cross-dresser. However, every time I see a cosplayer doing the character, the cosplayer is female. Is that considered cross-dressing?
Oddly enough, I don't have a problem with females cross-dressing as males. The other way around really grosses me out. I suspect that it's because that there are almost always versions of what might be considered typical male clothing cut to properly fit women and somewhat socially acceptable to wear.
Posted by: Civilis at Aug 09 21 18 (qCWoW)
3
I think I remember when I was a kid that someone on TV observed that by the 1950's there was no distinctive piece of male clothing that a woman could not wear.
Posted by: Steven Den Beste at Aug 10 01 14 (+rSRq)
Comments are disabled. Post is locked.
21kb generated in CPU 0.02, elapsed 0.0541 seconds.
40 queries taking 0.0356 seconds, 96 records returned.
Powered by Minx 1.1.6c-pink.