Thursday, May 08 2008
Aria: Once in a Blue Moon
I was debating which bad music pun to use for this episode's title.
"Filler! Filler night! You're fighting for you life inside of filler, filler tonight!"
"I will call you Aika, and Aika, when you call me, will you call me Al?"
After a long hiatus, the 10th episode of Aria the Origination, "That Moon-Gazing Night's Excitement" was released as a fansub. Of course, two days later
RightStuf
announces that it has licensed the entire series for American release, starting with Aria: the Animation this September. Thankfully,
Wonderduck
has indicated that the last three fansubs are available elsewhere.
I am immensely grateful to RightStuf for both licensing this excellent series and for licensing a number of other favorite series of mine. One of the first series I truly enjoyed, one that remains one of my Greatest Anime after all these years, is Irresponsible Captain Tylor, one of their early releases. I eagerly wait the first season box set release on September 30. Preorder now! I may end up doing an episode by episode recap once I get the DVDs. I'm still going to finish the Origination, hopefully in the next week or so, and recap that now...
When we last left Akari and friends, Alice had been unexpectedly promoted to full Prima undine, and the pressure is getting to her at the beginning of this episode. She's now the number one rising star Undine in all of Neo-Venezia, and that's pretty tough to live up to.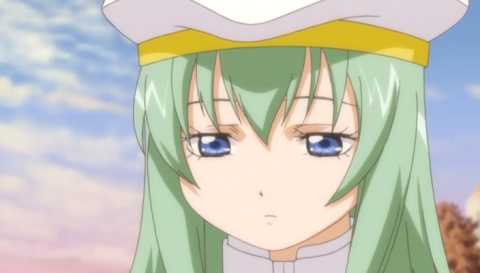 After getting caught spying on Alice with Aika, Akari invites Alice to a moon viewing party that evening to relax and eat Odongo dumplings. This is a good excuse for the series creators to put the characters in casual clothes.
After some time has passed, and Aika and Alice have conflicted over the dumplings, Aika wonders where Al is. Al is a Gnome, one of the other unique professions on Aqua. The Gnomes are in charge of adjusting the planet's gravity to something approximating Earth normal. Unfortunately, Al's appearance tends to herald the arrival of the series only use of hokey pseudo-science. Aika has something of a crush on Al which is never properly explained. Al, though he's small and looks young, is older than Alicia and Akira. Aika sets off to find Al. And then Alice notices that Maa has vanished as well.
Aika finds Al, and is giddy as a schoolgirl as she happily leads him back towards Akari and Alice. She stops to pose on top of a well...
... but the wooden cover is rotted through, sending her falling inside. Ever the gentleman, Al attempts to pull her out...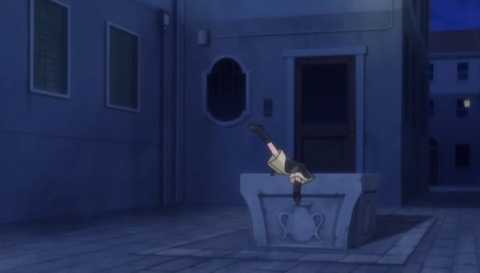 ...but falls in himself. Fortunately, somehow, with a city covered in canals and water, the well is somehow dry. Where is the water table, people?
Fortunately, help soon arrives...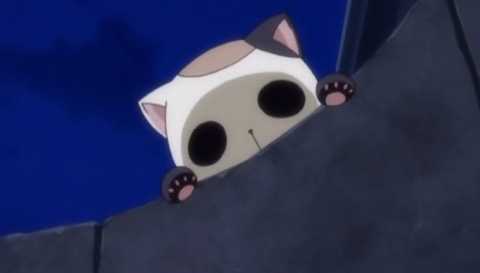 ... but Lassie, she isn't. Maa is referred to several times as 'she' in the translation, something I hadn't seen before.
Aika attempts to get Lassi... sorry, Maa, to get help. So what does Maa do?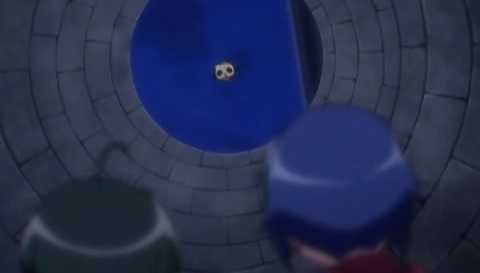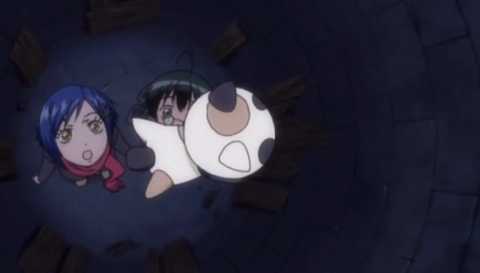 ... Maa, predictably, jumps down the well. Oddly enough, she doesn't land on all fours...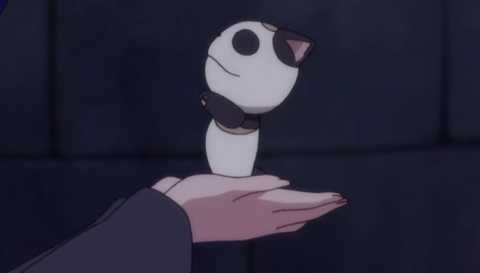 ... she sticks the landing! Perfect tens from all the judges, save the Romanian judge.
Aika, tells Maa that she is a smart Aqua cat (confirming my theories), and repeatedly attempts to send Maa back out for help, but Maa keeps jumping back in, until she finally gets the idea and heads off for help. Or heads off somewhere...
We are then treated to the drama of two people trying not to admit their feelings for each other stuck in an embarrassing situation in tight quarters. It's a good excuse to give us some up close character shots,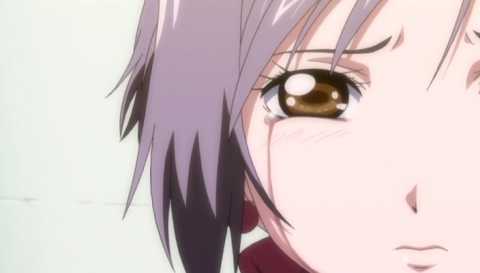 ...as well as having Aika running through the complete cartoony exaggerated emotional faces book.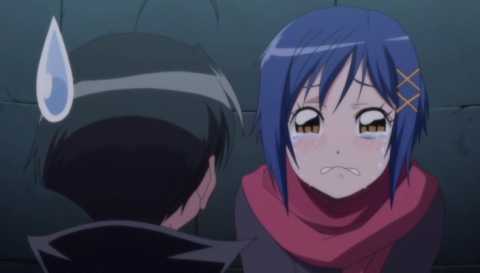 Eventually, Maa brings help, which, by anime cliche law, must arrive at the most embarrassing possible moment.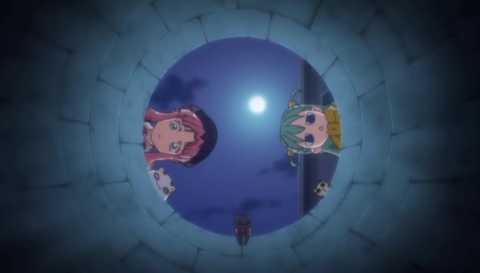 With that, everyone is safe and all is well.
Some interesting things to note this episode: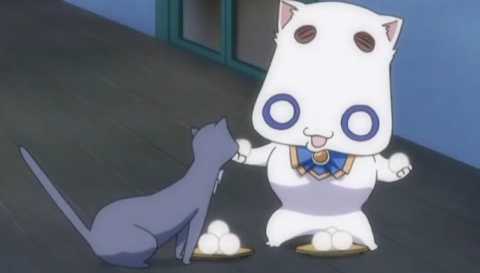 President Aria finally manages to get some kind of positive reaction from President Hime. Way to go, President Aria! Suck in that flabby belly!
Right after Aika starts fretting about Al being late, Alice starts mischievously prodding Aika about her relationship with Al. President Hime, who is Aika's cat for all practical purposes, can be seen mimicking Alice's expression.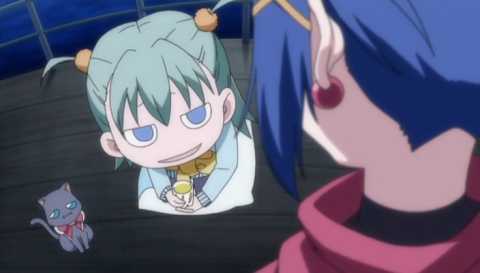 Posted by: Civilis at 08: 30 PM | Comments (2) | Add Comment
Post contains 729 words, total size 6 kb.
1
If you haven't done so already, download the BSS subs instead of the Aquamarine. I'm not sure what the first language of Aquamarine's translator and QC'er is, but it's neither English nor Japanese.
Yeesh.
Posted by: Wonderduck at May 12 17 03 (AW3EJ)
2
I'll second that. I'm working on the next three episodes from the BSS subs.
Posted by: Civilis at May 13 16 38 (lCCR7)
Comments are disabled. Post is locked.
17kb generated in CPU 0.02, elapsed 0.0476 seconds.
40 queries taking 0.0326 seconds, 79 records returned.
Powered by Minx 1.1.6c-pink.