Tuesday, May 27 2008
Aria: Final Exams
In my post on episode nine, I speculated we had three big events remaining spread over four episodes of Aria: the Origination. Now, as we start episode 12 of Aria: the Origination, "Within that Blue Sea and Wind", we still have those three events left.
The episode opens with Akari picking up a visibly depressed Aika from one of the Himeya Undin Company offices for routine practice. When Akari finally stops her blissful "while it's lonely without Alice, we've got to be haoppy for her and do our best" speech and realizes something's wrong, Aika tearfully says that they can't practice together anymore, and the camera pans down to reveal...
... Aika's already been promoted. As usual for her perennially good-natured personality, Akari is happy about her friend's success.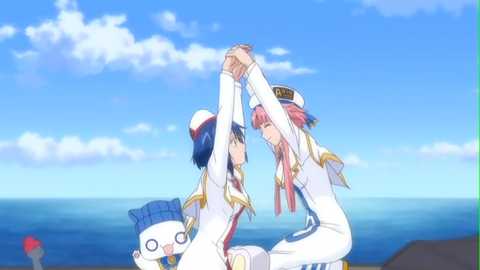 We get to see snippets of Aika's promotion exam through a flashback that plays behind the opening credits. (One of the nice touches with Aria is that the openings have always been pure new footage tied in to the upcoming episode.) Because most of the emotional build-up to Aika's promotion occurred in the previous episode, this isn't a massive disappointment, but there is evidence of an emotional promotion, complete with synchronized waterworks from Akira and Aika.
The scene shifts to Aria company, where after Akari recounts the days events, Alicia announces that she will hold Akari's promotion test the next day. Of course, this means Akari can't sleep, so she eventually goes out for an Undine-style all-nighter with a midnight gondola practice. At this point, the animators must have realized that "it's the second to last episode, and we haven't seen some of the minor reoccurring characters since episode 1! Let's put a few in!" So, Akatsuki the Salamander weatherman, and Woody the Sylph delivery jetbiker just happen to be out for a night's stroll.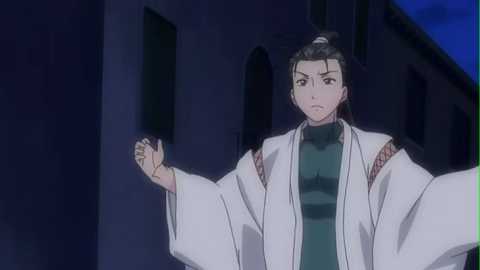 Akatsuki was Akari's first client as an apprentice Undine, and, though a self-proclaimed Alicia fan, shows that potential anime love interest antagonism towards Akari. Akari does happen to mention her upcoming exam.
The next day arrives, and after a rain delay, Akari's exam begins. We get to see more impressive Neo-Venezian scenery on the exam.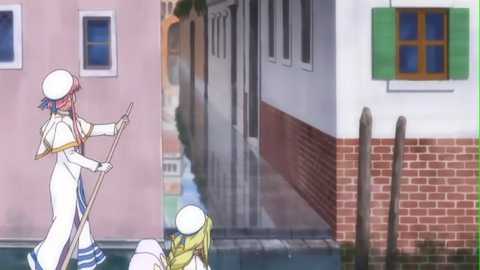 It's nice to see many of the characters in the series get there bit parts in cheering for Akari, as her friendliness and sunny disposition are her unique talent as an Undine.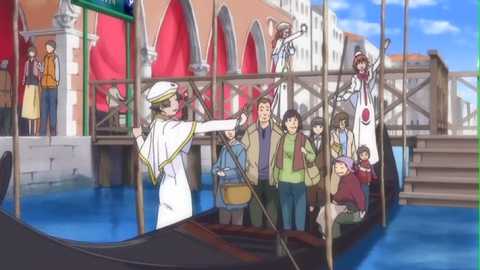 I think that the details in showing the people Akari has met and helped along the way makes the whole exam as emotional as Alice's, even though we've seen the same formula now three times (even if Aika's was foreshortened). The animation here, both in the detailed scenery, such as the Rialto bridge, the colorful crowds, and the animation effects, are more pronounced than the rest of the series, as befitting one of the emotional climaxes of the series.
As expected, Akari passes the challenges before her. As with Alice and Aika, Alicia gently takes her hand and removes her glove.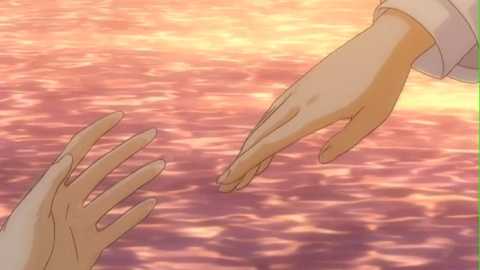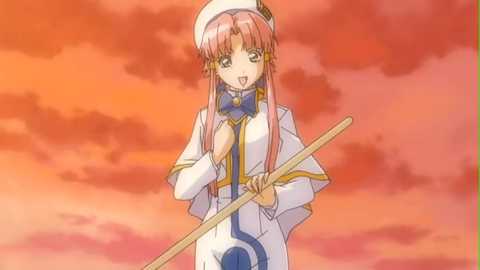 Congratulations, Akari, you've been promoted to Prima and awarded the name Aquamarine. We have one episode left, and at the very close of this episode, Alicia announces she as something important to tell Akari, hinting at the grand finale yet to come...
Posted by: Civilis at 07: 50 PM | Comments (2) | Add Comment
Post contains 537 words, total size 4 kb.
1
I'll admit to being slightly disappointed that we didn't see more of Aika's test. Oh well, I'll live. Still a good episode!
In the sixth picture, the one with the Legion of Substitute Undines... the undine with her back to us? It's just me I'm sure, but doesn't it look like she's... um... standing OUTSIDE the gondola??? Or, to put it a different way, like she's walking on water?
Posted by: Wonderduck at May 28 00 21 (AW3EJ)
2
I missed that; she is standing outside the boat. I went back and checked the original substitute Undine episode and there is no dock behind the gondola, only water.
Posted by: Civilis at May 28 05 57 (H5ezL)
Comments are disabled. Post is locked.
15kb generated in CPU 0.02, elapsed 0.0425 seconds.
40 queries taking 0.0298 seconds, 79 records returned.
Powered by Minx 1.1.6c-pink.