Tuesday, May 20 2008
Aria: the Beginning of the End
Episode 11 of Aria: the Origination, "On that Changing Day...", begins the closure of the series. It's still filler, mostly, but it establishes an important detail for what lies ahead in the last two episodes.
The episode opens with some visually stunning shots of the building of the Himeya Undine company, the oldest on Aqua and the employers of Aika and Akira, along with Akira musing on some not-entirely-flattering titles as possibilities for Aika when she becomes an Undine. Akira overhears that Alice has been promoted straight to prima, and that although Aika seems to be taking it well, the other Himeya Undines are worried for her. It's odd for Akira, of all people, to be the last one to know, although she has difficulties with some of the other Himeya Undines.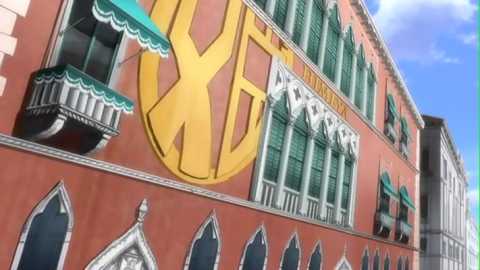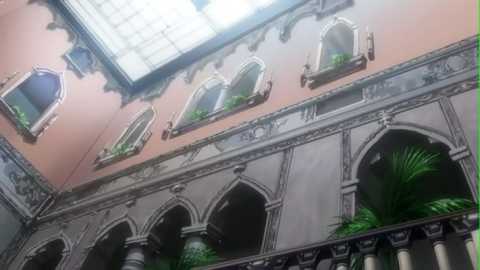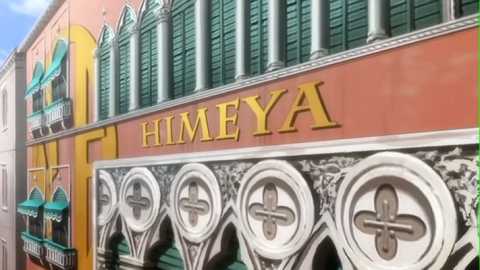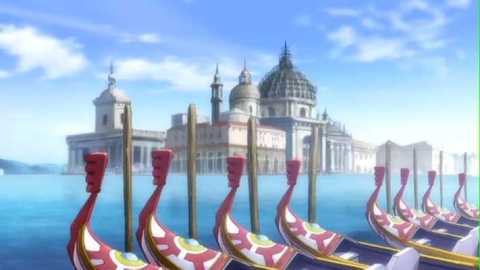 After observing Aika on a training trip, Akira attempts to bring up the subject and is too nervous to do so. Aika, suspecting that she's made some mistake in front of her strict instructor, is equally nervous. The whole thing is a succession of distorted facial reactions.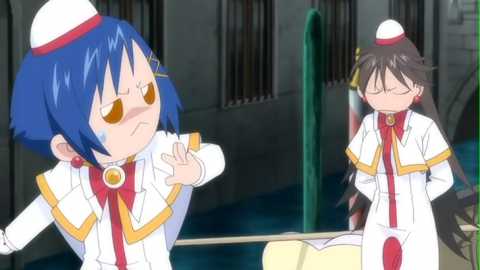 Akira eventually takes Aika out for ice cream, and the two walk along, Aika oblivious to her brooding instructor. Aika eventually accidentally raises the issue by mentioning that she had seen Alice's unprecedented promotion.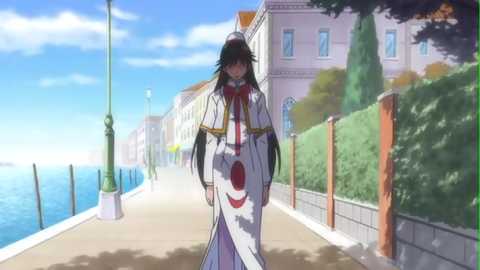 Akira, worried about whether Aika is suppressing her true feelings, confronts her student, only to find that Aika is genuinely proud and happy for Alice, and at the same time, determined to catch up to her friend. This relieves Akira, who then taunts Aika with the list of potential names, in part as her own encouragement. Akira also mentally acknowledges that Aika may be about ready to assume her eventual duties as heir to the management of Himeya Company.
The story then shifts to Alice, last seen trying to adjust to life as a Prima. She is more comfortable as a Prima. We have some time to watch her at work, as she traverses more beautiful scenes from Neo-Venezia.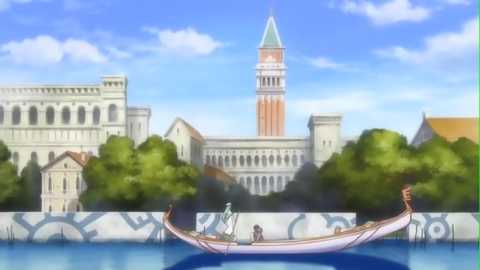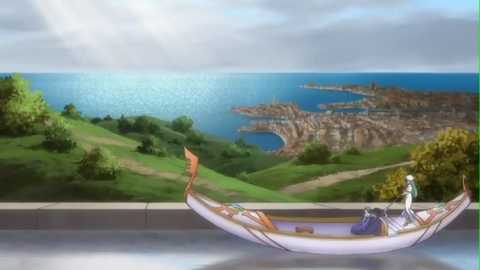 Alice is beginning to appreciate the life experiences she gets interacting with her guests as a Prima Undine. She also laments the lack of time spent with her friends. That is, until she returns to her apartment on a rainy night...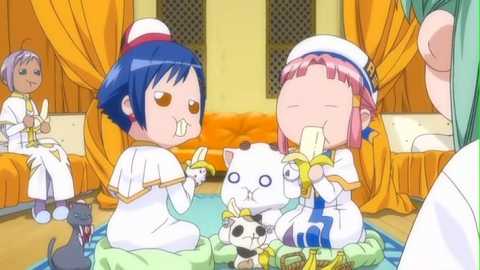 ...to find Aika and Akari and the cats, happily eating more bananas as they wait for their friend. Incidentally, I suspect this is another example of Athena working behind the curtain to support Alice. The three enjoy a pizza and start to establish the same sort of friendship that Athena, Alicia and Akira show, that while they are no longer constantly together, the bonds that they have formed will remain forever.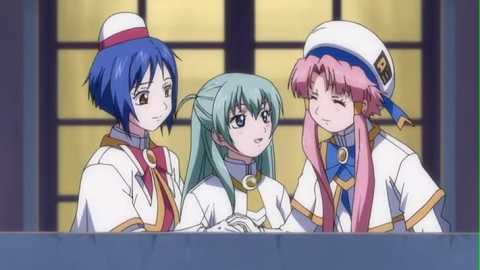 Wonderduck
has an excellent post up about his reaction to the final episode. I echo his thoughts, in that for me a world or setting can have no higher praise than "I wish I could go there". The visuals in this episode really exemplify what can be done with animation to craft a setting and flesh it out into a world that is real enough and yet wonderful enough that it has that attraction. The animators really use light and shadow, water and weather effects, and layered scenery to create an illusion of reality that sucks the viewer in. While the character development makes Aria a good series, the setting of Neo-Venezia is really what makes Aria great.
Posted by: Civilis at 07: 49 PM | Comments (3) | Add Comment
Post contains 568 words, total size 5 kb.
1
The "distorted facial reactions" bit, ending with "AIKA!" "YIEE!" made me laugh really, really hard!
Posted by: Wonderduck at May 21 22 17 (Oevq6)
2
Watching Aika gracefully treat her customers in the brief bit leading up to her misunderstanding Akira was woderful in her own way, as it shows that she's learned a lot of the people skills that are Akari's stock-in-trade.
I'm only hoping my review of Episode 13 can be as good as yours, Wonderduck...
I am looking forward to doing a series with characters that have names beginning with different letters of the alphabet. I'm probably going to have to do a capsule review of this season.
Posted by: Civilis at May 22 11 22 (huKGY)
3
You're very kind.
The whole "A" thing was the only major negative I could find with the series... even Woody's real name starts with an A.
Change their names ("Baika"? "Malice"?), and get rid of the more supernatural episodes and it's the perfect series.
Posted by: Wonderduck at May 23 01 16 (AW3EJ)
Comments are disabled. Post is locked.
16kb generated in CPU 0.21, elapsed 0.1228 seconds.
40 queries taking 0.0836 seconds, 80 records returned.
Powered by Minx 1.1.6c-pink.